Providing the Training and Certification of Footcare Nurses and Footcare Specialist
Providing Nursing Foot Care Education
& Treatment in Canada
Become a Certified Foot care Nurse - CFCN®. Only nurses who have completed our advanced foot care nurse certificate program or a similar program and pass our Certified Foot care Nurse CFCN® competency exam can use the protected trademark title CFCN® - Certified Foot Card Nurse. CFCN® is a protected trademark title through the  Canadian Intellectual property office - CIPO.
85 percent of amputations are preventable. Without timely and appropriate care, foot ulcers in persons with diabetes can result in the amputation of part or all of their feet.
Approximately 2,000 Ontarians will have a lower limb amputation this year.
The Ontario government currently spends between $320 million and $400 million for diabetes-related foot ulcer treatment - including $140 million for amputations.
Sources: Canadian Diabetes Association and Ontario Health Technology Advisory Committee1.53 million people in Ontario have diabetes.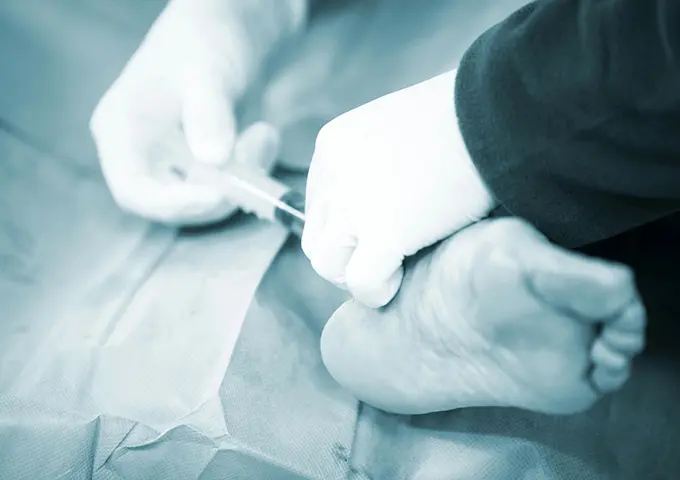 The certified foot care nurse CFCN® in meeting certification standards plays an important role in the prevention of amputation. The CFCN® provides the highest standard of safe nursing foot care to the public.
Membership includes keeping current with best practices in nursing foot assessment, treatment, and infection control as perIPAC Canada. And for Foot care practice standards in health care settings.
Being listed in our find a certified foot care nurse directory where the public will see that you are certified to the highest standards of nursing foot care treatment.
Be a part of a larger online foot care nursing community on the timed right health care professionals, an online platform where you can gain support and sharing of information regarding working as a certified foot care nurse.-CFCN®.
Gain access to foot care suppliers where you can purchase your foot care tools and equipment at wholesale price. Obtain information on becoming a health care provider with veteran affairs, where you can obtain payment for health coverage for your clients from Blue Cross, Sun Life and Great-West life insurance for the foot care service that you provide to clients.
Gain support in establishing and promoting your foot care service to the public. Gain a 10% discount on attending a workshop in reflexology and wound care with our community partners.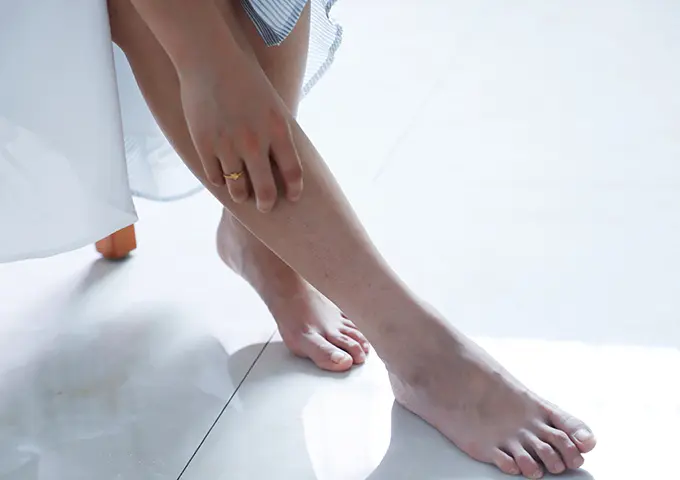 Foot care Nurse Certification Board provides the foot care nurse certification of foot care nurse after passing the Foot care Nurse Competencies Examination and meeting the standards of clinical practice hours.
Are you a Registered Nurse, Nurse Practitioner, Registered Practical Nurse, or Licensed Practical Nurse who has completed a Basic and Advanced Nursing Foot care course from a recognized Nursing Foot care certificate program? Do you work in private practice, in the community, or in a health care setting as a Foot care Nurse anywhere in Canada? Then you may qualify for as a Certified Foot care Nurse.
Our goal is to promote certified foot care nurses and recognition of Registered Nurses, Registered Practical Nurses, and License Practical Nurses trained in Basic and Advanced Nursing Foot care. The recognition of the valuable services that they provide to their clients i​n clinical settings in their communities.
Recognized the added nursing skills learned as Foot care Nurses in providing Basic and Advanced Nursing Foot care treatment, and to acknowledge the important role that the foot care nurse plays in the prevention of the complication of diabetes in regards to amputation and to provide safe foot care to the geriatric population with respect to treating nails and calluses and foot assessment with respect to foot health.
What is a certified foot care nurse CFCN®, and what is their role in providing foot care services to high-risk clients, including Diabetics and the Geriatric population?
Certified Foot Care Nurses provide foot care assessment and treatment in advanced and basic and advanced nursing foot care for clients in various health care settings. as per  IPAC Foot care practice standards in Health care setting 2019  Certified Foot care Nurse - CFCN® certification is aimed at foot care nurses who have completed a basic and advanced nursing foot care course which incorporates nursing foot care competencies in providing Basic and Advanced Nursing Foot care using tools and equipment used in Basic and Advanced foot care treatment, and has completed theory and 20 practical case studies as per the accredited program, implementing assessment skills, use of tools, and practicing safe, evidence-based infection control practices throughout the treatment as per best practice standards today.
Certified Foot care Nurses  with the CFCN® certification provide assessments and treatment for high-risk clients, including; the geriatric population the diabetic clients, while using nursing best practice guidelines for diabetes foot risk assessment, checking for peripheral neuropathy and vascular disease, providing health teaching, and treatments using foot care tools and products.
These tools include; disposable monofilament testing, cordless rotary tool, or electric drill with disposable abrasive bits to debride thicken nails that is safe to use on clients—removal of calluses, removal of seeded corns, and hard corns using various corn remover tools.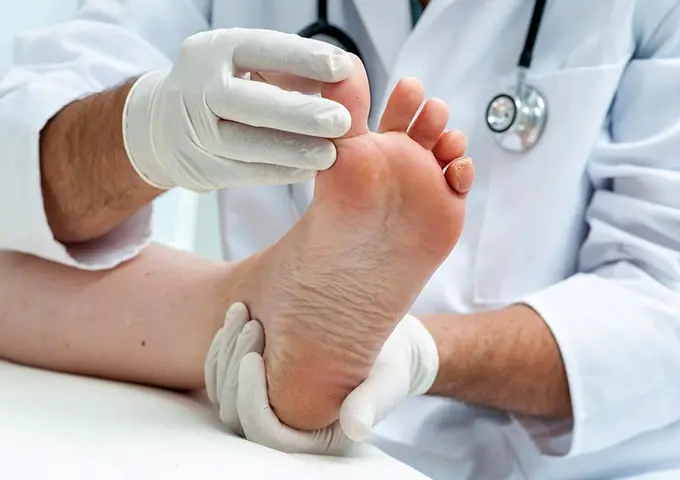 Use of various files includes; black files, diamond deb files, disposable foot paddle, and foot files with disposable abrasive pads.
Use of nail cutting stainless steel tools includes; ingrown scissors, nail nippers, nail clippers, and ingrown nail nippers. Use of a single set of disposable foot care instruments if providing foot care in the client's home. or in a setting where there is not an Autoclave onsite.
Treating fungal nails with products that eradicate fungal spores and using non-perfumed urea-based products on feet promotes a decrease in the formation of calluses.
Treating seeded, hard and soft corns with corn remover tools promote safe care.
Providing techniques include; padding, strapping and packing nails with an alcohol swab to decrease the risk of nail involution or nails that are prone to ingrown toenails.
Certified Foot Care Nurses use current Best Practice Guidelines for practicing nursing foot care.
The use of foot care tools and products utilizing safe infection control techniques: practices using disposable gloves, facial goggles with light, facial shield, disposable N95 mask, disposable hair net, disposable plastic apron, autoclave or single-use disposable sterilized foot care tools approved by Health Canada.
Use of an Autoclave or steam sterilizer to sterilize foot care tools used in treatment is preferred. If an autoclave steam sterilizer is not available, use of a single-use set of sterilized tools up to the point of use or just prior to tools being used for treatment. Use of hydrogen peroxide wipes to clean the surface area after foot care treatment is provided.
Use of disposable monofilaments to assess decreased sensation in high-risk clients, including diabetics.
Use of single-use disposable foot care tools, including scissors, nippers, clippers, black file and foot file.
Use of a foot care stool for treatment with a disposable barrier placed under the client's feet during treatment.
Use of an adjustable chair that can be cleaned after treatment with a hydrogen wipe after treatment. The chair must have lumbar support during treatment.
Use of disposable basin liners in the basin for non-diabetic clients who choose to have a foot soak. Use of disposable paper towels, cleaning of foot care equipment such as a footstool, plastic toolbox, and foot care environment as per Health Canada Foot care tools and Infection Control Practice Standards.